Post Classifieds
UNIVERSITY TRAILS (4 BED 4 BATH)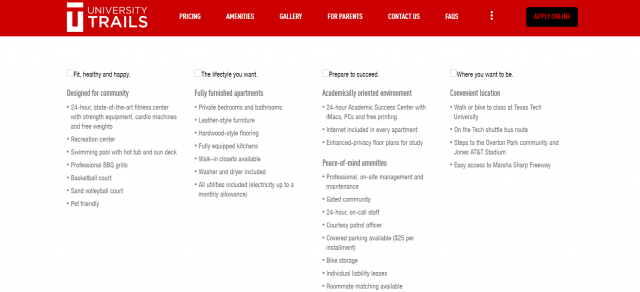 Description
My roommate and I are subleasing our rooms at U Trails in 4x4. There are NO roommates in the other two rooms It is fully furnished, with a washer and dryer, and all utilities are included in the rent price. Pet friendly, with a 24 hour gym, study room, and computer lab with free printing There is a pool, sand volleyball, and outdoor basketball court. Our building is one of the closest to the bus stop and we requested the 1st or 2nd floorThe lease starts in August 2019 and goes to August 2020, so its perfect for the full academic yearPSA: IF YOU 100% SIGN WITH US, MY ROOMMATE AND I WILL REFUND YOU FOR THE APPLICATION FEE.
Posted Date
03/31/2019

Listing ID
72093948
CONTINUE GENERAL SEARCH
GET NEW LISTINGS DELIVERED WEEKLY
East Texan readers should know that
Houston LASIK
specialist, Dr. Amjad Khokar, member of the Texas Medical Association, is a LASIK surgeon in Houston offering the most advanced LASIK technology and experience, providing a safe LASIK surgery.