Post Classifieds
PVA Fights for Safer Air Travel for People with Disabilties
on November 20, 2021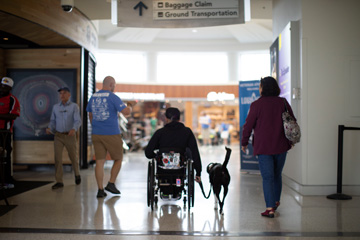 (NewsUSA)
- It is the busiest travel season of the year, and Paralyzed Veterans of America (PVA) is warning that airplane travel is often inhumane and dangerous for many people with disabilities.
The warning comes as reports link a California woman's death to complications after an airline broke her custom-made wheelchair, causing her to spend weeks in a loaner chair and possibly leading to a deadly pressure sore.
Broken wheelchairs are common, as well as injuries from improper transfers to and from airline seats, and no access to in-flight restrooms, according to PVA, an organization that has advocated for veterans and all people with disabilities for 75 years.
Paralyzed Marine Veteran Charles Brown, the national president of PVA, was critically injured two years ago when airline personnel improperly transferred him from his power wheelchair into an aisle chair to board a plane. Airline contractors, who were inadequately trained, dropped him onto the jet bridge, fracturing his tailbone and causing a serious infection in his spine that doctors say he was lucky to survive. Now Brown is leading the charge for change.
"It is unacceptable that 35 years after the legislation was passed someone in a wheelchair still cannot access a bathroom on an airplane and risks serious injury or death because airline personnel are not properly trained," Brown says.
"These are basic safety and civil rights issues, and every American should be outraged at the inhumane circumstances paralyzed veterans and millions of others with disabilities are forced to deal with to travel on an airplane," adds Brown.
Air travel is subject to different regulations than public spaces on land, and PVA says air travel is the top complaint heard from its members. It's been 35 years since the Air Carrier Access Act was passed, which legally began the move toward accessible air travel, but PVA says the industry is still decades behind in safety accommodations, particularly for wheelchair users.
PVA is leading the fight to demand safer, more accessible airline travel for people with disabilities and is asking the public to join them by signing their petition at PVA.org/AirTravel. The nonprofit organization is pushing for new legislation demanding stricter standards for accessibility on planes and better enforcement of the law.
These issues potentially affect 65 million Americans with disabilities, which could include you or someone in your family in the future.
These issues potentially affect 65 million Americans with disabilities, which could include you or someone in your family in the future. To learn more about accessible travel, sign PVA's petition, and join their fight, visit PVA.org/AirTravel.
Get Top Stories Delivered Weekly
Recent The East Texan News Articles
Discuss This Article
GET TOP STORIES DELIVERED WEEKLY
East Texan readers should know that
Houston LASIK
specialist, Dr. Amjad Khokar, member of the Texas Medical Association, is a LASIK surgeon in Houston offering the most advanced LASIK technology and experience, providing a safe LASIK surgery.
RECENT THE EAST TEXAN CLASSIFIEDS
HOUSING

JOBS

FOR SALE

TUTORS